A new season has begun and we couldn't be happier!
New and old members have come together to start work on holiday shows that will be held in December.  Be sure to check back for more details and to purchase tickets for the shows later this fall.  Until then, we'll be singing at a few outreach events and supporting the Onward Shay Marathon being held October 29 & 30!  More details and opportunities to mingle with the Choruses will be coming your way soon!
Would you like to be a supporter or volunteer?
Supporters and volunteers like you are the corner stone of our success!
Email us at boisechoruses@yahoo.com to join our volunteer list. Tell us about yourself!  
There is always work to do.  This season has only just begun!
Boise Men's Chorus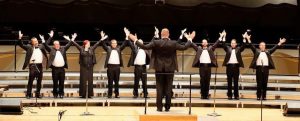 Boise Women's Chorus

Join our email list to get news on our upcoming season of performances and events!