Job Announcement: 
Job title: Artistic Director
(for one or both choruses)
The Board of Directors of Boise Choruses, Inc. (Boise Men's Chorus and Boise Women's Chorus) is accepting applications for the position(s) of Artistic Director, to begin September 1. 2017. We are looking for an enthusiastic and talented director(s) to lead us in 2017 and beyond.  Applicants may choose to apply to lead one or both choruses. 
Boise Gay Men's Chorus wins 2016 Laurel Award!
"Presented to a group in the LGTBQ community who promoted and raised the level of awareness of the arts through their talent in art, music or theater."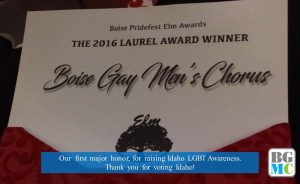 Thank you so much to everyone that voted.
We are excited to continue celebrating diversity in Idaho through song!