Spring Concert with Boise Women's Chorus!

Friday, April 6th at 7:00 pm
Southminster Presbyterian Church (6500 W Overland Rd. Boise, ID 83709)
Boise Women's Chorus invites you to celebrate peace and love with a night of song.
Performances by both the Boise Men's Chorus and the Boise Women's Chorus.
Click here to buy tickets in advance!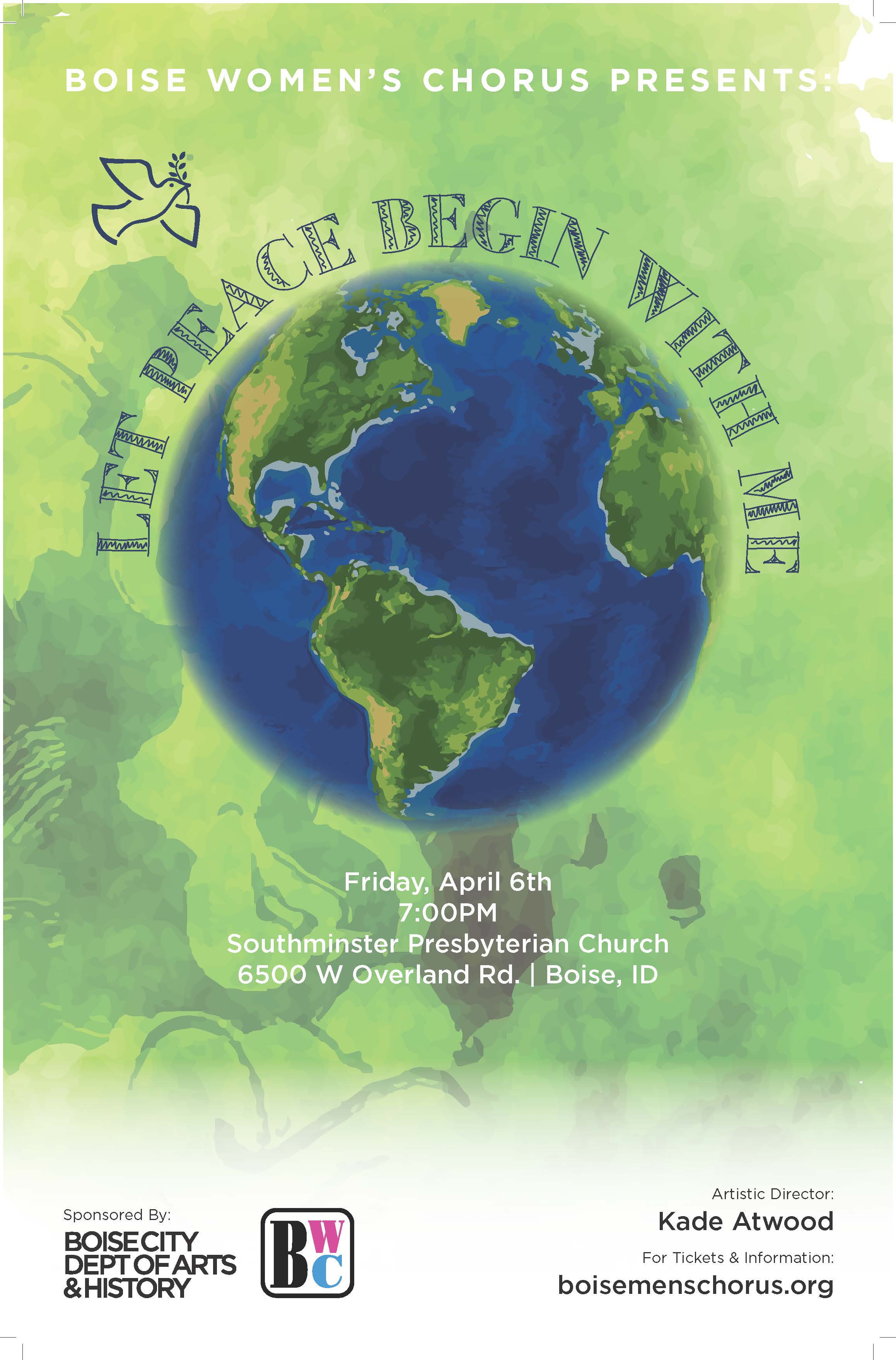 The Boise Women's Chorus presents a night of music, love, peace. Through song, we lead others to help make the world a more peaceful place. The song, "Let there be peace on earth and let it begin with me", is most fitting for this concert. If we want peace, it must begin with me. Demonstrate the peace from within and send it into the world.
Join us for "Let Peace Begin with Me"
We Have a New Artistic Director!

It's finally time to reveal the great news. With our director search process complete, we have our new chorus director and will be beginning rehearsals in a couple weeks! Thank you so much to the search committee for all their efforts to work with candidates and bring you an amazing director. Also, thank you all for being involved, staying patient, and being willing to accept change as it always occurs in our lives. We look forward to making music together again!
Without further adieu, please welcome the new artistic director for Boise Men's and Women's Choruses, Kade Atwood! As a founding member of the Boise Gay Men's Chorus, Kade is well known with many chorus members and audiences.
Singing and performing has been Kade's passion since a very early age. As a young adult he began singing in choirs; in high school he was inspired to make music his career choice.
Kade graduated from Boise State University, and continues graduate work in both choral and orchestral conducting. Kade has held the position of Minister of Worship Arts at Meridian United Methodist Church for 10 years, building a program that includes adult, children's and hand bell choirs. He has spent his life promoting peace, diversity and inclusion through music.
Kade's other passion is the horses. He owns and operates a successful equestrian facility in the Treasure Valley and competes in horse show events throughout the United States.
Please join me in welcoming Kade to our family and keep your eyes and ears peeled for rehearsal dates and other details to be announced. It's time to make music again!
Boise Gay Men's Chorus wins 2016 Laurel Award!
"Presented to a group in the LGTBQ community who promoted and raised the level of awareness of the arts through their talent in art, music or theater."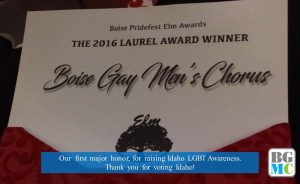 Thank you so much to everyone that voted.
We are excited to continue celebrating diversity in Idaho through song!